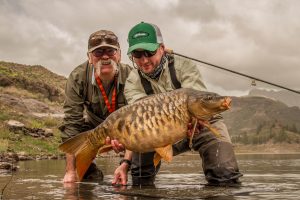 At first glance, fly fishing for carp appears to be a very modern phenomenon; all deer-hair pellet flies and punk camo clothing. But you'd be very wrong! What if we told you that fly fishing for carp is probably as old as fishing itself? And the first reference to fly patterns specifically for carp date back to a German text from around 1500!
Fast forward to the 20th century and Peter Cockwill (as ever!) was very much in the vanguard of experimental UK fly fishers, targeting & catching his first carp on Ivens Nymph patterns in the 1970s. Other famous UK angers also targeted carp surprisingly early on, including Arthur Cove & Bob Church; but it was John Wilson who first publicised the idea of using fly fishing tackle for them in both his writing and his original TV series "Go Fishing" in the 80s; unashamedly super-gluing trout pellets onto a hook! More recently Steve Yeomans of Midland Fly Fishing started posting some articles in 2000.
But the real origins of fly fishing for carp in the modern era can be found in North America. The seminal article has to be Mel Ellis' "Those Copper Coloured Bones", published in Field & Stream in 1966. He was the first to coin the term "freshwater bonefish" for carp & the name has stuck ever since. And he'd been doing it for quite a while before that….
 http://www.warmwaterflyfisher.com/CarpHunters/CarpHuntersArticles/Those%20CopperColored%20Bones.htm
Probably the most famous book on the subject has to be Barry Reynolds, Brad Befus & John Berryman's "Carp on the Fly, A Flyfishing Guide" from 1997. But arguably the best, and by far the most exciting, early book is George von Schrader's wonderful "Carp Are Gamefish", published in 1990. It's a great read but becoming increasingly collectible so can be tricky to track down. John Gierach also devoted a whole (& very humorous) chapter to the subject in "Another Lousy Day in Paradise" 1996.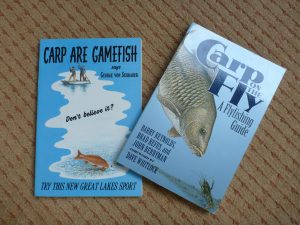 Lurking in the background like a jovial antichrist is the somewhat unlikely figure of self-styled "Carpfather", Ian Colin James. An ex-pat Scot from Clydeside, he moved to Canada as a young man in the late '70s, became an expert exponent of fly fishing for carp & set up one of the first carp on fly guiding services in the world. An outspoken advocate of the art, he has written a number of highly informative (and amusingly confrontational) articles on the subject, none of which will endear him to the UK's pellet flinging aficionados! Sadly he died far too young in 2015, but his writings can still be found online. Try "Carping: Fly Fishing's Crack" 2006 for starters,
 http://www.flyfishersrepublic.com/tactics/carp-on-the-fly/
Preferably with a cold beer!
More recently fly-fishing devotees from across the planet are discovering that carp are indeed gamefish; stalking and sight fishing these large, powerful fish with innovative fly patterns and ultra-modern fly tackle. There has also been a rapid proliferation of articles & books from around the world; but it's safe to say that the Americans have been at the forefront of modern development, with notable contributions from Spain, Portugal, South Africa and most recently, South America. Have a look at this wonderful article by Jose Rodrigues from Portugal for inspiration:
 https://www.scale-magazine.com/former_scale/2012-12/#/48
Or how about this from Sean Mills in South Africa?
Sean started fly-fishing for carp in the 1990s but is relatively unheard of. His book is a great read & a superb starting point for anyone new to the sport!
Sadly the UK seems to have an unpleasant fixation with stocked fisheries & pellet flies, although a couple of activists such as Jamie Sandford & Dave Felce are pushing the boundaries & challenging convention. Check out the Carp Champions page on Facebook.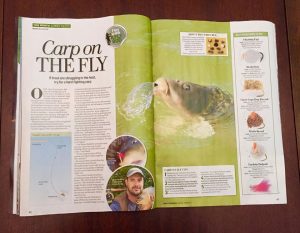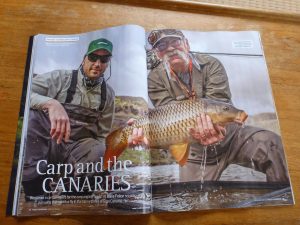 'Must-reads' for your coffee-table are Kirk Deeter's "Fly Fishing for Carp; Tricks and Tips for the Determined Angler" 2013 (probably the modern 'bible' on the subject; also published as "The Orvis Guide to Carp), Dan Frasier's "Orvis Beginner's Guide to Carp Flies" 2015 & Jay Zimmerman's "The Best Carp Flies: How to Tie & Fish Them" 2015.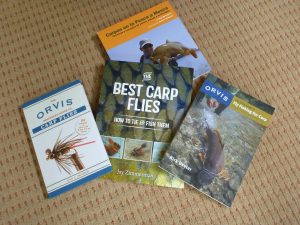 Obviously, not everyone writes a book or goes into print. Some folks just quietly "get on with it" or use personal blogs or other media to communicate their passion. Cesar Tardio (Spain) has had some awe-inspiring catches & produced some inspirational videos on You-Tube; Giampaolo Mingozzi has been flying the flag for Italy and there is an active group of folks down under in Australia, the Kangaroo Carpers on Facebook.
There are of course numerous passionate Carp Champions out there that we haven't been able to mention (yet!), so apologies if your name isn't here. We are all pioneers in our own way and we're all part of the history, & the future, of fly fishing for those Golden Bones. We are all Carp Champions!!
Post-script by Dan Frasier:
In the US the revolution (as its been referred to) was actually led by the online community. A couple major blogs, carponthefly.com and flycarpin.com along with the now defunct Carppro were at the vanguard of the explosion of carp flyfishing publicity in the US in the early 2010s. Flycarpin.com, at one point, ran the most acclaimed fly swap for any species in the US, even garnering corporate sponsorships. (Btw, this site really should be visited). Speaking of sponsorships, the major US fly companies really contributed to the push, funding tournaments, running massive online photo contests, and supporting publications. Orvis is the clear winner in terms of support, having me on the podcast a number of times and giving away custom rods at events etc. But almost all the others played big roles also. This push is what lead to Kirk doing his book, although he'd been a carp angler for years. It was, and remains, an exciting time here for carp fly anglers.